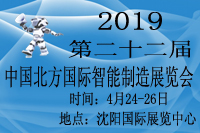 Invitation:
  2019 The twenty-second International Exhibition of Intelligent Manufacturing in the North
  第二十二届北方国际智能制造展览会
  DATES:2019.4.24-26
  AT:Shenyang International Exhibition Center
  地点:沈阳国际展览中心
  【振兴东北老工业基地—为制造业创造无限商机】
  Revitalization of old industrial bases of Northeast region. Creating unlimited business opportunities for manufacturing industry
  东北地区包括辽宁、吉林、黑龙江省及内蒙古东部四市区,是中国重要的原材料基地和重化企业基地。解放后国家重点投资打下良好的工业基础。改革开放以后汽车工业、航空航天、冶金铸造、石油石化、电力建筑等行业得到迅猛发展。特别是中央振兴东北老工业基地的举措,使东北装备制造业有了长足的进步。展览会的举办为参展商带来了源源贸易机会和合作机遇。
  Northeast China, an important base of raw material and heavy chemical enterprise in China, consists of Liaoning, Jilin, Heilongjiang provinces and the four eastern Inner Mongolia cities. After liberation(since 1949), the national key investment laid a solid industrial foundation for the base. Since the reform and opening-up(since 1978), industries such as automobile industry, aerospace, metallurgy, petroleum, electric construction, etc. have developed dramatically. Especially with the launching of State's revitalization of old industrial bases in Northeast region, the Northeast equipment manufacturing has made great progress.. The exhibition continuously provides the exhibiting enterprises with trade and cooperation opportunities.
  【卓越的地理位置,便利的参观条件]
  Excellent geographical position, convenient visiting conditions
  举办地沈阳,是中国东北地区的中心城市,是东北地区交通枢纽,也是我国重要的工业基地物资集散地。同时具有毗邻朝鲜、韩国、日本、俄罗斯的地理优势。正是凭借着这一中心地位的吸引力和庞大的市场潜力,辐射力越来越广,影响力越来越大。2010年国务院批准涵盖沈阳、鞍山、抚顺、本溪、营口、阜新、辽阳、铁岭8个省辖市的"沈阳经济区"为"国家新型工业综合配套改革试验区""实现城建、经济、市场一体化""新型工业化""一小时交通网络",必将进一步促进其工业发展和经济迅猛发展。
  Held in Shenyang, is the central city in Northeast Chinese, is a transportation hub in Northeast China, is China's important industrial base of material distributing center. At the same time with adjacent to the north and South Korea, Japan, the Russian geographical advantage. It is by virtue of the center position of the appeal and the huge market potential, radiation force is more and more widely, becoming more influential. Approved by the State Council on 2010 in Anshan, Fushun, covering Shenyang, Benxi, Yingkou, Fuxin, Liaoyang, Tieling 8 cities "Shenyang economic zone" for the "national model industry comprehensive reform pilot area" "implementation of urban construction, economic, market integration" "new industrialization" and "one hour traffic network", will further promote the industrial development and rapid economic development.
  【政府主办,业界支持,共创新商机】
  Organized by Government, supported by industries, new business opportunities are co-created
  "东北工业自动化及仪器仪表展览会"创立于1999年,经过十多年的精心培育,已成为东北历史最长、规模最大、影响力最强的工业展会。前十九届展会累计有10多个国家和国内30多个省市的4367家企业参展,参观人数累计60万人次。今年我们把机器人产业
  列入其中,2018 年东北自动化展升级为"东北智造展",推动制造业转型,提升机器人产业的影响力,促进东北老工业基地的再次振兴!
  上届展会由中国机械工业联合会、中国电器工业协会、中国国际贸易促进委员会辽宁省分会主办,沈阳市人民政府指导,并且得到了中国模具工业协会等业内百余协会组织的的鼎力支持,吸引了来自德国、意大利、新加坡、韩国、日本、俄罗斯、美国、英国等国家及中国台湾、香港、深圳、江苏、浙江、吉林、黑龙江、辽宁、江西、湖南、湖北、云南、四川等省市的2000余家企业参展。专业观众来自汽车制造、航天航空、金属加工、模具加工、机械制造、建筑、工程机械等行业,企业搭建了一个强有力的推广平台。
  2019年的招商工作已经开始,作为主承办方将竭力为海内外企业搭建一流的"展示产品,扬名企业"平台。在此,竭诚欢迎海内外企业的鼎力支持与加盟,以共创新商机!
  "Exhibition" industrial automation and instrumentation in the Northeast was founded in 1999, after ten years of careful cultivation, has become the Northeast history is the longest, largest, most influential industry exhibition. The first seventeen exhibition a total of 4367 enterprises in more than 10 countries and more than 30domestic provinces and cities exhibitors, the number of visitors totaling 600000.This year, we will include the robot industry, which will be upgraded to "northeast intellectual exhibition" in 2018, promote the transformation of manufacturing industry, enhance the influence of the robot industry, and promote the revitalization of the old industrial base in northeast China.
  The last event by Chinese Machinery Industry Federation, Chinese international trade China appliance industry association, promote the host Committee of Liaoning Province branch of the Shenyang Municipal People's government, guidance, and get Chinese die & Mould Industry Association and other industry hundred Association for their support, attracted from countries of Germany, Italy, Singapore, South Korea, Japan, Russia, USA such as the UK, Taiwan, Hongkong, Shenzhen and China, Jiangsu, Zhejiang, Jilin, Heilongjiang, Liaoning, Jiangxi, Hunan, Hubei, Yunnan, Sichuan and other provinces and cities more than 2000 exhibitors. Professional audience from the automobile manufacturing, aerospace, metal processing, mold processing, machinery manufacturing, construction, engineering machinery and other industries, the enterprises to build a strong platform for the promotion of.
  In 2019, China Merchants work has already begun, as the main organizer will strive to build first-class enterprises at home and abroad for the "display products, famous enterprise" platform. Here, we sincerely welcome overseas enterprise support and join in, with a total of innovation opportunities!
  【上届展会观众分析】
  Analysis of visitors during last exhibition
  上届展会总参观人数5万人次。来自海内外30多个地区,其中以中国东北三省居多,约占90%;涉及30多个行业。
  Total number of visitors in the last exhibition: 5From over 30 domestic and overseas regions, most of which are from the three provinces of Northeast China, accounting for 90%; involving over 30 industries.
  观众所属行业图表: 观众职务分析表:

  【八大展馆、规模宏大】
  The eight exhibition hall, the grand scale
  八大展馆将同时开放,规模宏大、气势磅礴:举行场地――沈阳国际展览中心,是由沈阳市政府全额投资建设的大型展览和会议场所,是东北最大、最先进的展览场馆,室内展览面积10.56万平方米,室外展览面积20万平方米,综合服务区面积4万平方米,具有较高的国际化、智能化水准。整体规模位居国内第五位、东北首位。
  The eight exhibition hall will be open at the same time, grand, of great momentum: held in Shenyang International Exhibition Center site --, is from Shenyang City Hall full investment in the construction of large-scale exhibition and conference rooms, the northeast is the largest, most advanced exhibition venues, indoor exhibition area of 105600 square meters, outdoor exhibition area of 200000 square meters, the comprehensive service area 40000 square meters, has the internationalization, high intelligent level. The overall scale of ranking the fifth place, the Northeast's first.
  【参展范围】
  Exhibiting scale
  机器人、核心部件及其相关范围
  Robots, core components and their associated ranges
  ◆工业机器人整机、机器人配件、机器视觉 、 整体解决方案
  Industrial robot, robot parts, machine vision, the overall solution
  ◆机器人开发平台与软件技术
  Industrial robot development platform and software technology
  ◆工业机器人部件及零部件
  Industrial robot components and spare parts
  ◆自动小车及有轨小车
  AGV/RGV
  ◆AR/VR
  ◆3D 打印技术及相关
  3Dprinting:3Dprinting related technologies
  ◆工业互联网
  Industrial Internet
  工业自动化
  Industrial automation
  ◆生产及过程自动化
  Production and process automation
  ◆自动化信息技术及软件
  Automated information technology and software
  ◆电气系统
  Electrical system
  智能装备及制造技术展示范围
  Display area of intelligent equipment and manufacturing technology
  ◆高档数控机床
  High grade CNC machine tool
  ◆机床零部件及辅助设备
  Machine tool parts and auxiliary equipment
  ◆数控设备
  Numerical control equipment
  ◆数控系统
  Numerical control system
  ◆工装模具
  Equipment & mould?
  ◆激光焊接、切割、智能测控技术
  Laser technique, micro system technology
  ◆重大集成智能装备
  Major integrated intelligence equipment
  动力传动
  Power transmission
  ◆传动设备
  Transmission equipment
  ◆流体传动与控制
  Fluid drive and control
  ◆电气传动
  Electric drive
  ◆机械传动、零部件及制造设备
  Mechanical drive, parts and manufacturing equipment
  ◆轴承及其专用装备
  Bearings and their special equipment
  ◆压缩气体技术
  Compressed gas technology
  【参展费用】Exhibition cost
  I. 室内净地Open space in the exhibition site:
  海外企业External enterprises should pay U.S. $ 300/ m2.
  海内企业Domestic enterprises should pay RMB¥800/m2 .The minimum space is 36 m2. In the space there are no any facilities. The exhibition stand is to be erected by the exhibitor or the special installation company. The management fee of the special installation is undertaken by the exhibitor or the special installation company itself.
  II. 国际标准展位(3mx3m)Standard boothsh :
  External enterprises should pay U.S.$ 3000 for each booth of 3m×3m.
  Domestic enterprises should pay RMB¥7,500 for each booth of 3m×3m,
  Pay an extra of 10% of the charge for any corner booth.
  There are 3-sides of enclosure, a lintel with the unit name in Chinese, 2 fluorescent lamps, 1 desk, 2 chairs, and a 220V power socket (for power electricity, an application should be made ahead of time, an extra fee should be charged)
  注:基本配置包括:三面(或两面)展板、一条楣板、两只射灯、一桌两椅、一个5A/220V插座。
  Note: Basic equipments contain: three side (or two side) poster, one board with the co. name, two spotlights, one table and two chairs, one 5A/220V socket.
  【参展程序】Exhibition procedure
  ◆参展单位与组委会签订参展合同加盖公章后传真或邮寄至0086-024-23922432;
  The exhibiting unit and the organizing committee sign the exhibition contract with official seal on, and fax or mail to 0086-024-23922432;
  ◆合同签定后5个工作日内支付全部参展费用,或者至少支付总参展费的50%作为订金,5日内未交任何费用组委会有权变更参展单位展位。
  Pay full exhibition cost 5 work days after signing the contract, or pay at least 50% of the total cost as earnest money. The organizing committee has rights to modify the exhibiting unit booth if no payment is made within 5 work days.
  ◆如5日内只付订金,则余款须于2019年3月31日前结清。
  If only down payment is made within 5 days, the rest fees must be settled before Feb. 31st, 2019.
  ◆展位分配以款到先后顺序安排,汇款后请及时将银行出具的汇款凭证传真至组委会。
  未按规定报到或欠款的单位,组委会有权对其展位另行安排,预交款不予退回。
  The booth distribution is arranged in sequence of payment delivery. After remittance, please fax the remittance certificate issued by the bank in time to the organizing committee. For booth of units that doesn't make regulated reports or owes money, the organizing committee has rights to make other arrangements, without down payment returned.
  ◆汇款方式Method of remittance::
  收款单位:辽宁北方工商业展览服务有限责任公司
  collection unit: Liaoning Northern Industry & Business Exhibition Service Co.,Ltd.
  开户银行:农业银行沈阳南湖支行
  Bank of deposit: Shenyang Nanhu Branch of Agricultural Bank
  开户帐号:06-150001040009355
  Bank account no.: 06-150001040009355
  【参展报名 请联系】
  [Signing up for the exhibition Please contact]
  北方工商业展览有限公司
  Liaoning Northern Industry & Business Exhibition Co., Ltd
  联系人:王丽 15242018347 Contact:Wangyu
  Tel电话:024-31881714 23921795
  Fax传真:024-23922432
  地址:辽宁省沈阳市和平区三好街93号金源大厦5F
  Address: 5F, No.93 Sanhao Street, Heping District, Shenyang, China.
  Postcode: 110004
  E-mail:2476005244@qq.com
  http://www.bfexpo.com.cn